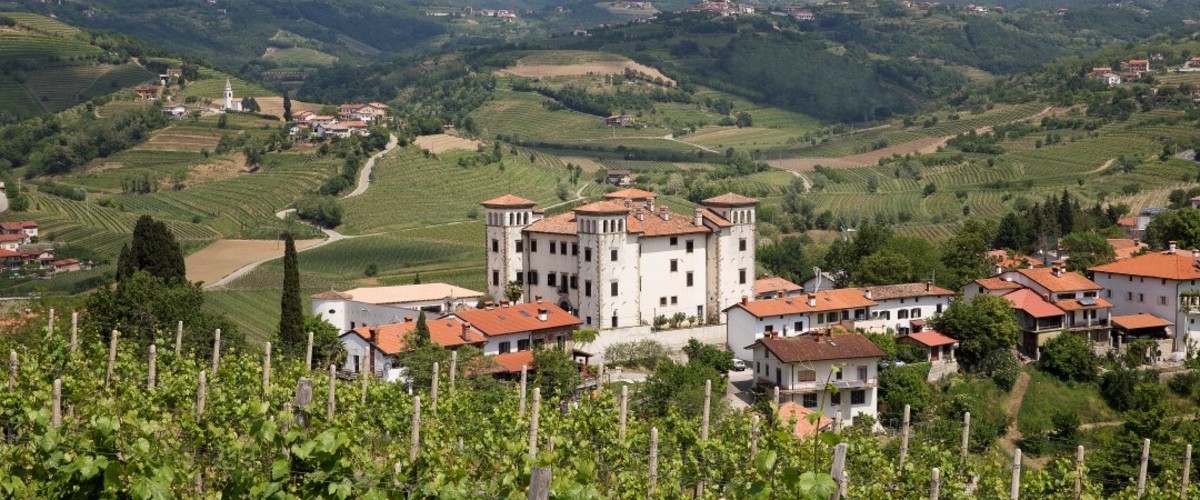 Dobrovo Castle
History
The mansion towers above the central settlement of Brda, in a place that was occupied by an unfortified court in the 13th or in the beginning of the 14th century at the latest. The present building was built in the first half of the 17th century and was owned by the barons, the later counts, of Colloredo. They received this estate as a fief in the beginning of the 16th century. In 1789, the mansion was bought by Janez Krstnik II Catterini, who had been awarded the noble title of von Erzeberg in 1782. At the end of the 19th century, it passed over to the Spanish Count Silverij de Baguer Corsi y Ribas, who renovated the building completely and in 1885 set up a rich museum collection within it. The collection, containing more than 600 exhibits, also had a printed catalogue. Before the war, the family donated part of the museum collection to the regional museums in Gorizia. During World War I, commanders of the Italian Army resided in the mansion, including the writer, journalist and academic Ugo Ojetti. During World War II, the mansion was robbed. Over 2000 items were taken from it. In 1974, the Regional Museum Goriški muzej was entrusted with the management of the mansion and renovated it between 1979 and 1991. Rooms on the upper floors are dedicated to museum and gallery activities.
The castle houses two permanent exhibitions: Zoran Mušič Gallery and the Castle Collection in Dobrovo – An Attempt at Reconstruction. The castle's furnished attic spaces also house periodic exhibitions.
The mansion was designed as a two-storey cubic building with angular towers on the corners. This symmetrical complex is oriented on an east-west axis. It was designed as a Renaissance building but the arrangement of windows on the east and west facade and the typical axis give the mansion a Baroque character. All that has been preserved of the mansion's rich furnishings is the staircase paintings, and the paintings in the Hunting Room (painter Clemente Delneri, 1894) and in the Knight's Hall.
Opening Hours
Due to the renovation of the castle, the museum collections will be closed from the 6th of September 2021 until further notice.
Tuesday–Friday:
10.00–12.00 and 13.00–15.00
Monday: closed
Open on Easter Monday according to holiday schedule.
Saturday:
13.00–17.00
Sunday and holidays:
13.00–17.00
Closed: January 1, Easter,
November 1, December 25
For groups of more than 10 visitors also open outside the opening hours by prior arrangement.